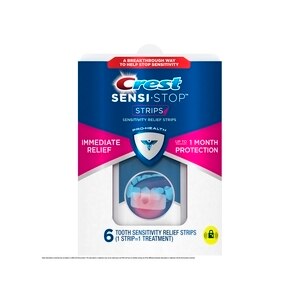 There are 33 mil­lion house­holds impacted by tooth hyper-sensitivity. If you're one of the indi­vid­u­als in one of those house­holds who suf­fers from this, then you know how hav­ing sen­si­tive teeth impacts many of the bites and sips you take each day. We all have a work around — only drink­ing or chew­ing with one side of our mouth — or not enjoy­ing cer­tain foods we love such as ice cream because the pain is just too great.
Enter Crest Sensi-Strips
Crest is unveil­ing one of its most break­through prod­uct launches in a decade with the launch of Crest Sensi-Stop Strips. The small, flex­i­ble, semi-transparent strips pro­vide tar­geted, imme­di­ate and long-lasting tooth sen­si­tiv­ity relief like never before.
I got to attend a spe­cial ses­sion ear­lier this week out at the Mason, OH P&G Busi­ness Cen­ter, where I, along with some fel­low blog­gers were intro­duced to Crest Sensi-Stop Strips. We meet with the devel­op­ers of this prod­uct and Dr. Travis Stork. Yes, that Dr. Travis Stork. Dr. Travis Stork, Emmy® nom­i­nated TV host of The Doc­tors and board-certified emer­gency med­i­cine physi­cian, has part­nered with Crest and Oral-B Pro-Health to help oth­ers under­stand that a healthy mouth is an impor­tant part of a healthy body.
Dr. Stork spoke with us pas­sion­ately about how there is such an enor­mous con­nec­tion between what's going on in our mouths and how that cor­re­lates to our entire health. This mes­sage is clearly impor­tant to him. And it should be impor­tant to you, because there's some def­i­nite truth behind those words.
If you have sen­si­tive teeth, then you more than likely are using a tooth­paste which con­tains potas­sium nitrate. This active ingre­di­ent will help with sen­si­tiv­ity, but it can takes weeks to pro­vide relief, and it's not long act­ing. You have to keep on using it. After awhile, when you go to the den­tist, you'll start to hear that you're miss­ing areas of your mouth with brush­ing, things don't look as good in there as it used to. And that's because in order to help with the sen­si­tiv­ity, you're giv­ing up impor­tant things in your toothpaste.
Crest Sensi-Stop Strips help not only relieve tooth sen­si­tiv­ity, but pro­vide you with a way to be able to switch your tooth­paste to one that's more focused on over­all health of your mouth and not just sen­si­tiv­ity. For exam­ple:  Crest® Pro-Health® Tooth­paste: Deliv­ers com­pre­hen­sive pro­tec­tion for your teeth and pro­tects all the areas den­tist check most: cav­i­ties, gin­givi­tis, plaque, sen­si­tiv­ity, tar­tar, whiten­ing and fresh breath. This is HUGE I think. Being able to use "real" tooth­paste again, means over­all bet­ter oral and whole body health. I never knew I was giv­ing up one thing to gain another by using sen­si­tive tooth­paste, but I do know that over the years since I've begun to use it, I've noticed changes in my den­tist vis­its, and they haven't all been pos­i­tive. Know­ing this now is going to really impact my oral reg­i­ment going for­ward in hope­fully a very pos­i­tive way.

How do they work?
We got an inter­est­ing sci­ence les­son on Mon­day about the struc­ture of a tooth, and what hap­pens when gums recede. Basi­cally lit­tle things called den­tal tubules become exposed. When they're exposed, liq­uid which should be sta­tion­ary, moves back and forth and hits the nerve end­ings in the cen­ter of our teeth caus­ing us to wince or avoid cer­tain foods.
What Crest Sensi-Stop Strips do is cre­ate a bar­rier by block­ing the exte­rior open­ing of the tubules with oxy­late crys­tals. The strips are small, flex­i­ble, semi-transparent strips pro­vide tar­geted, imme­di­ate and long-lasting tooth sen­si­tiv­ity relief like never before. If you've ever used Crest White Strips, you'll notice these are very sim­i­lar in appear­ance and appli­ca­tion. The amaz­ing thing is that you leave a strip on for 10 min­utes and it pro­vide you with up to 30 days of pro­tec­tion. You know exactly where in your mouth you have sen­si­tiv­ity. Instead of treat­ing your entire mouth by using sen­si­tive tooth­paste, you can put the the right amount of tooth sen­si­tiv­ity treat­ment exactly where it is needed.
For more infor­ma­tion, visit www.crestprohealth.com and check out their Face­book page at www.facebook.com/crest.
Do they work?
I have a sen­si­tiv­ity on the left side of mouth to cold drinks. I always try to use a straw when I drink cold drinks so that I can help keep the cold away. I was given a sam­ple packet to try, so I did just that. The appli­ca­tion process was sim­ple and easy — I picked an area on the top right of my mouth. It didn't taste weird, which was a bonus. After 10 min­utes, I took it off. Later today I decided to give a cold drink a test and drink it reg­u­larly which I haven't done in years. In fact, I had to re-learn how to do it. LOL. Well, it was def­i­nitely less sen­si­tive after the treat­ment with the Sensi-Stop Strips. Cool. Turns out, that I might need to retreat this area or other areas in order to have opti­mal effect as the expo­sure of new tubules can hap­pen at a fairly reg­u­lar basis as there's so many of them on the sur­face of our teeth.
For more infor­ma­tion on the strips, visit www.crestsensistop.com.
To quote Dr. Stork, "Small deci­sions impact our health. We think of them as being iso­late deci­sions, but they're not." our deci­sions small or large do impact our over­all health.
Here's one final thing for your to check out:

Dis­clo­sure: This is a spon­sored post writ­ten in part­ner­ship with One2One Net­work and Crest. Opin­ions are mine.